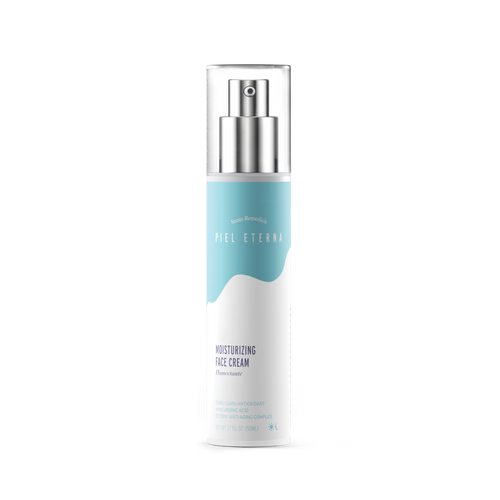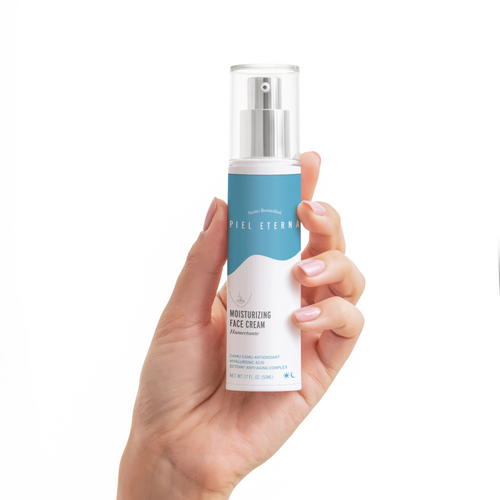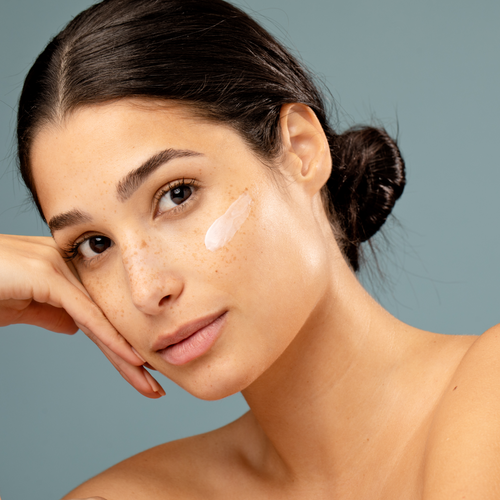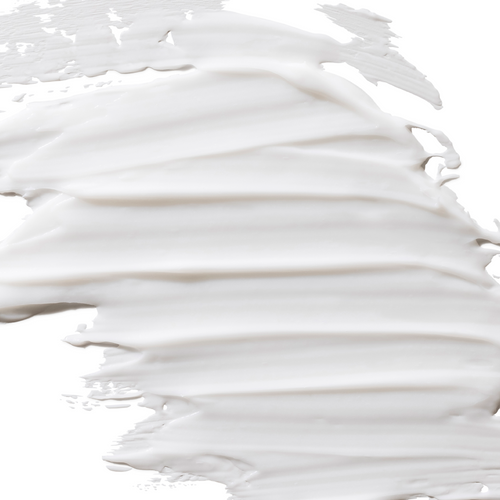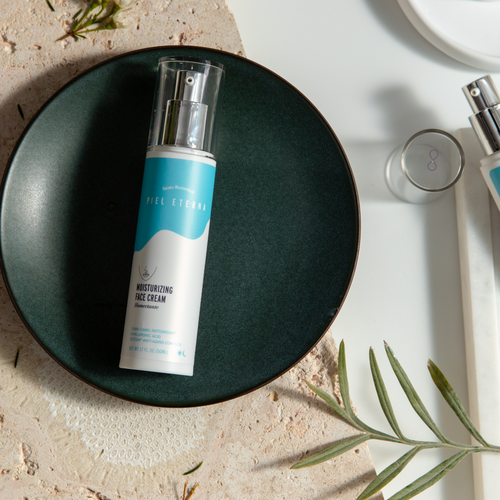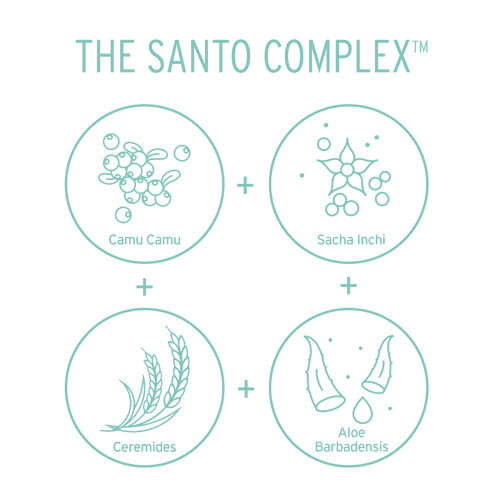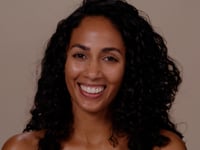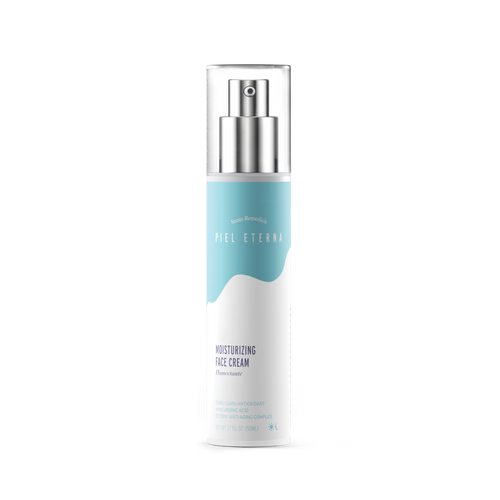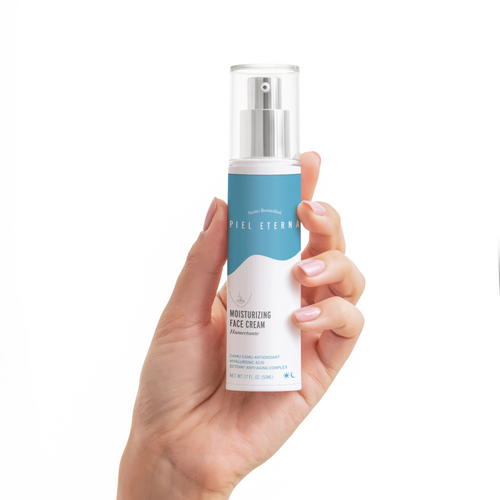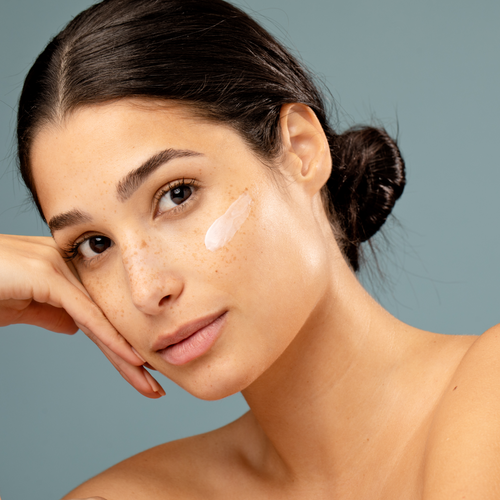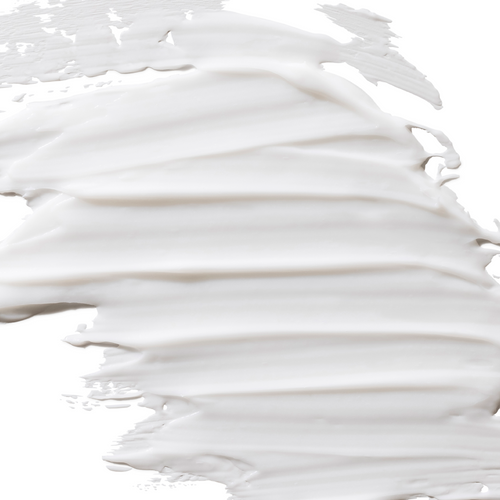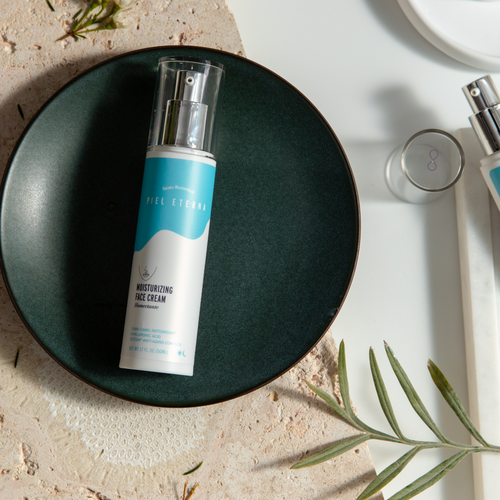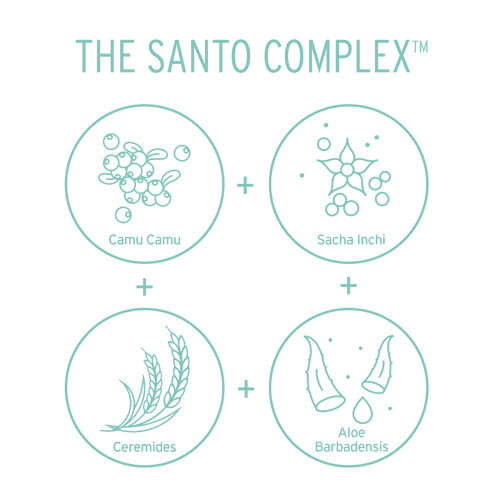 Recommended for: All skin types
When to use: Morning and night
Contains: Camu Camu, Hyaluronic Acid, Ectoin, Sacha Inchi, Aloe, Ceramidas, Chia, Calendula, Bisabolol, Vitamina E, Niacinamide.
This daily moisturizer is designed to combat aging, reducing visible signs such as fine lines and wrinkles. The combination of powerful antioxidants and peptides help stimulate collagen, revitalize the skin, and fight inflammation, so you can achieve a more radiant, youthful complexion.
How to use
How to use
Add 1 pump to the tip of your finger if your skin is normal or oily, and 2 pumps if your skin is dry or sensitive.
Spread evenly, massaging in an upward circular motion until completely absorbed.
Ingredients
Ingredients
Water, Caprylic/Capric Triglyceride, Glycerin, Cyclomethicone, Dimethicone, Cetyl Alcohol, Cetearyl Alcohol, Tribehenin PEG-20 Esters, Hydrolyzed Plukenetia Volubilis (Sacha Inchi) Seed Extract, Propanediol, Niacinamide, Ectoin, Panthenol, Butylene Glycol, Tetrapeptide-21, Triheptanoin, C13-15 Alkane, Polysilicone-11, Butyrospermum Parkii (Shea) Butter, Acrylates/C10-30 Alkyl Acrylate Crosspolymer, Citrus Aurantium Dulcis (Orange) Peel Oil, Citrus Nobilis (Mandarin Orange) Peel Oil, Citrus Paradisi (Grapefruit) Peel Oil, Allantoin, Caffeine, Polyacrylamide, C13-14 Isoparaffin, Laureth-7, Sodium Hyaluronate, Stearyl Glycyrrhetinate, Triethanolamine, Bisabolol, Tocopheryl Acetate, Squalane, Disodium EDTA, Xanthan Gum, Aloe Barbadensis Leaf Extract, Calendula Officinalis Flower Extract, Camellia Sinensis (Green Tea) Extract, Resveratrol, Aristotelia Chilensis (Maqui) Fruit Extract, Salvia Hispanica (Chia) Seed Oil, Glycosphingolipids, Glycolipids, Myrciaria Dubia (Camu Camu) Fruit Extract, Phenoxyethanol, Ethylhexylglycerin
Frequently Asked Questions
Question
How is Piel Eterna Moisturizing Face Cream different from other facial creams?  
Answer
The moisturizing face cream is formulated with the latest technology and suitable for all skin types. It protects against aging and dryness due to the Santo Complex ingredients including Camu Camu, a powerful Amazonian antioxidant with a high concentration of Vitamin C, minerals, and amino acids. This cream also improves skin tone and elasticity. Other important ingredients responsible for its rejuvenating effect include: Sacha Inchi, Aloe, Ectoin, Chia, and Maqui. 
Question
What are some of the main ingredients in this moisturizer?  
Answer
The moisturizer contains Hyaluronic Acid to provide a high degree of hydration to the skin and Ectoin, an amino acid known as an 'extremolyte', which offers total cell protection and potent anti-aging benefits. Its Ceramide Complex promotes elasticity and improved tone by restoring the skin's natural protective barrier. The cream also contains Sacha Inchi, a seed extract from the Amazon, with peptides that stimulate collagen, reduce fine lines and wrinkles. In addition, it includes Maqui Wineberry which delivers potent antioxidant effects to fight damage and aging caused by free radicals.
Question
What is the proper way to apply this product? 
Answer
For oily/combination skin, place 1 dose of the moisturizer on the tip of your finger. For dry skin, use 2 doses. Apply the moisturizer to each cheek, the forehead and chin, and a small amount to the nose area. Spread the cream evenly on the face by massaging gently in upward circular motions until the moisturizer is fully absorbed. 
Question
Can I use this product regardless of my age? 
Answer
Yes, if you are 18 or older. Our products are designed for all skin types using the most advanced technology and with an emphasis on the care of Hispanic skin. The moisturizer's main ingredients include Aloe to stimulate elastin and improve the skin's appearance. Aloe also helps heal the skin with antibacterial and anti-inflammatory properties that help at any age.  
Question
What is Ectoin and what is it for? 
Answer
It's a type of amino acid derivative known as extremolyte, found in organisms that have managed to survive conditions of extreme dehydration for millions of years in places such as the Uyuni Salt Flat in Bolivia and the Natron Lake in Egypt, some of the most arid places in the world. Ectoin provides that same cellular defense effect to the skin, along with powerful moisturizing, anti-aging, and anti-inflammatory benefits. 
Question
Can I use this product if I have sensitive skin? 
Answer
Always consult your dermatologist before starting any product, especially if you have sensitive skin or suffer from a skin condition. However, Piel Eterna products are created to treat and care for even the most delicate skin, helping combat inflammation and redness. 
Question
How often should I use this moisturizing cream? 
Answer
For best results, apply the Moisturizing Face Cream in the morning and in the evening after using the Purifying Cleanser. If you are using our A.C.E. Retinol Intensive Rejuvenation Oil (evening only) and/or our ZELMA Brightening Serum (morning and evening), apply this moisturizer as the last step to seal in moisture.  
Santo Complex™
Ingredientes:
Camu Camu
Procedente del Amazonas, tiene alto contenido de antioxidantes y péptidos que combaten el daño celular y apoyan la producción de colágeno. Mejora la apariencia de las líneas y la textura de la piel.
Sacha Inchi
Oriunda de la región del Amazonas, contiene péptidos naturales potentes que apoyan la producción de colágeno. Mejora la apariencia de líneas y arrugas de la piel.
Ceramidas
Restauran y fortalecen la barrera natural protectora de la piel. Apoyan su hidratación y luminosidad.
Aloe
Tiene efectos reparadores y cicatrizantes. Apoya la producción de colágeno, y tiene propiedades antiinflamatorias y antibacterianas.
Details of Use
Crema Facial Humectante
Descripción:
Combate el paso del tiempo con una crema que es una inyección de vitalidad, humectación y nutrición para tu rostro.
Quién debería usarlo
Todas las personas con 18 años o más. En especial, aquellas con pieles maduras, para evitar el envejecimiento.
Cuándo usarlo
En la mañana y en la noche
Después de 1 semana
Comenzará a reponer la hidratación de la piel y fortalecer la barrera cutánea.
Después de 4 semanas
Tu piel habrá restaurado su equilibrio, luciendo más tersa, radiante y saludable.
Tips de la Dra. Leyda
Siempre aplica la crema humectante sobre un rostro limpio y libre de toxinas y maquillaje.
Incluye el uso de un protector solar mineral durante el día, en áreas como la cara, cuello y escote.
Comprométete con el cuidado diario de tu piel para que logres ver resultados duraderos y puedas rejuvenecer tu cutis.
How to Use
---
1. Lava bien tus manos.
2. Coloca 1 dosis en la yema de tu dedo si la piel de tu cara es normal o grasosa, y 2 dosis si tu piel es seca.
3. Aplica y esparce con un suave masaje en forma circular hacia arriba, hasta que se absorba por completo.