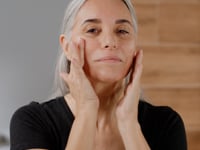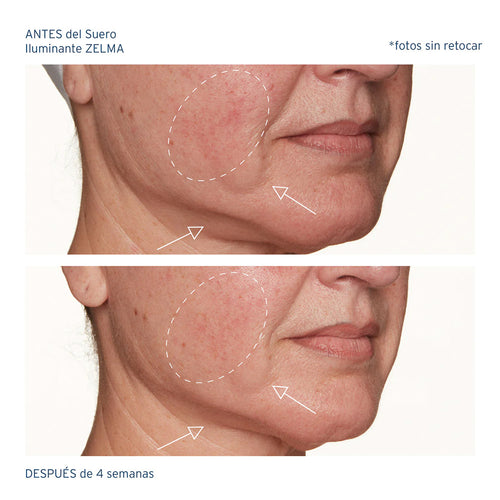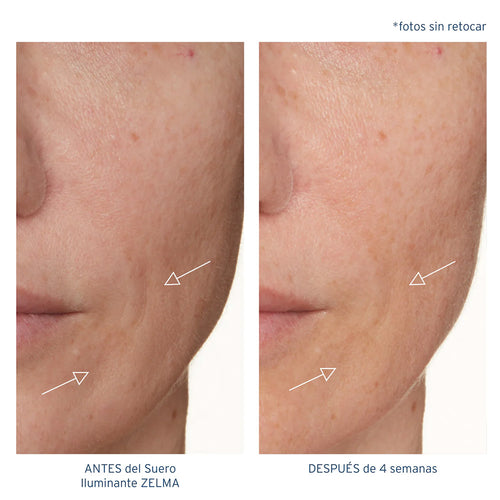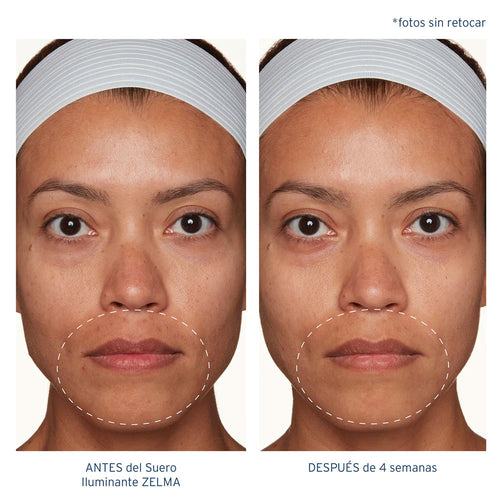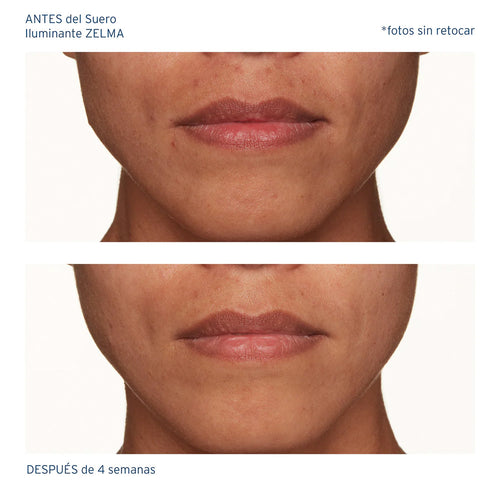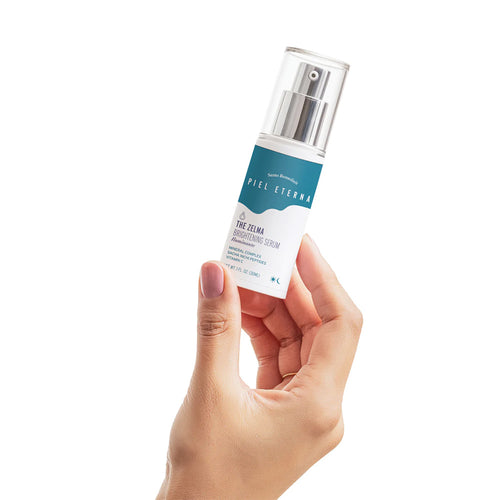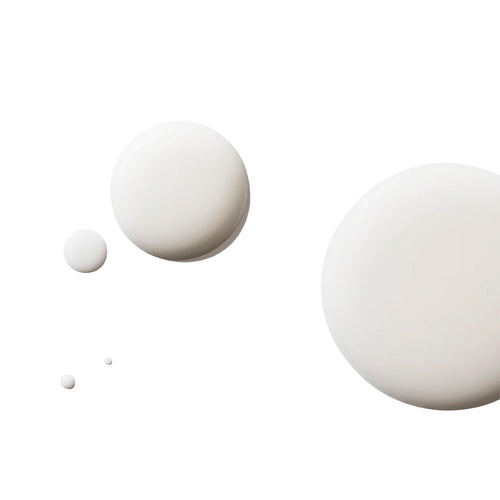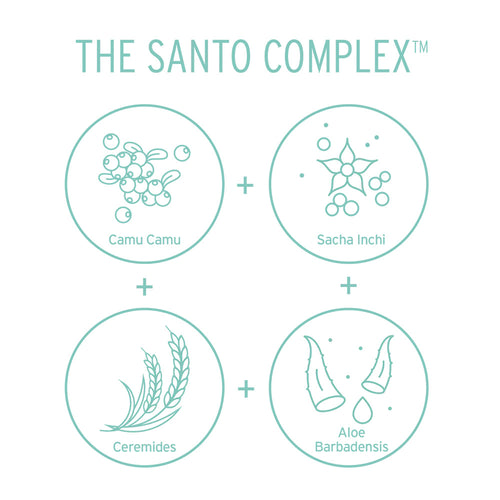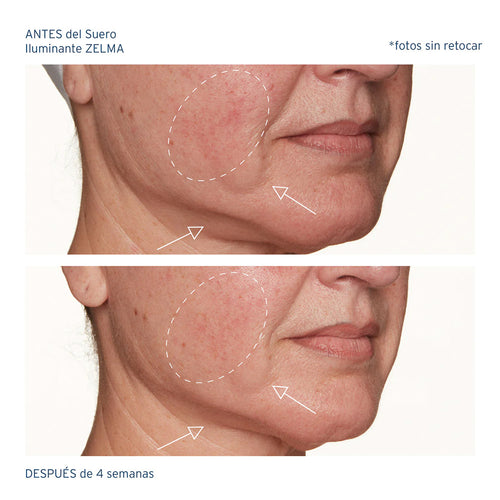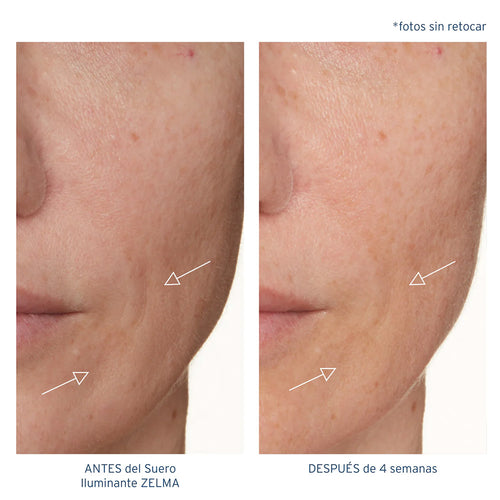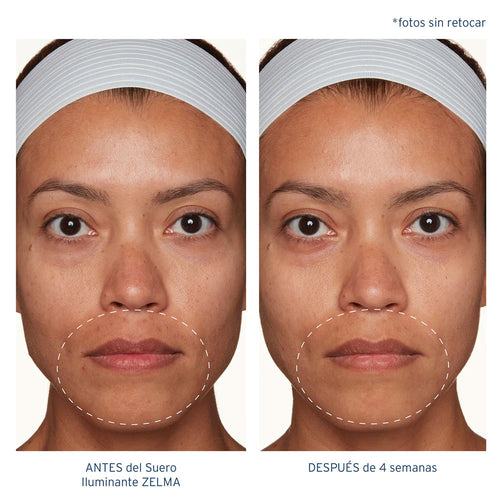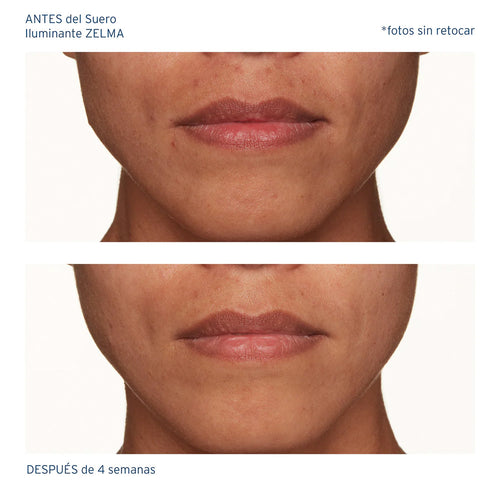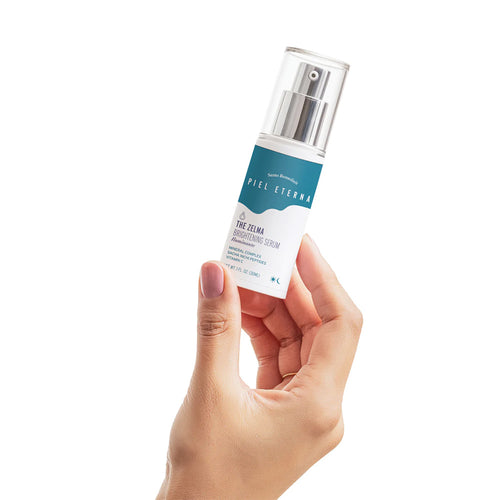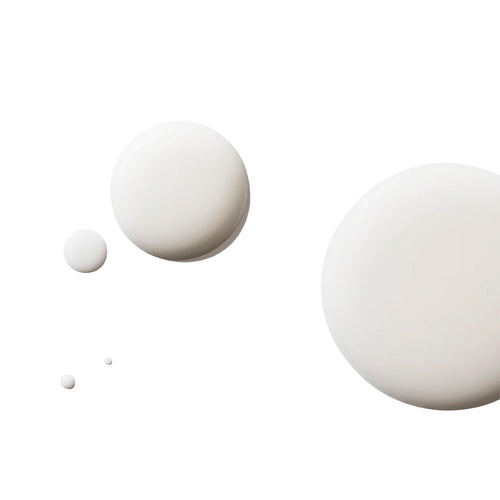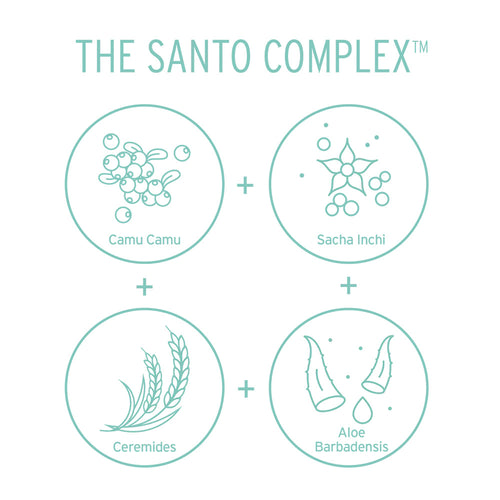 Recommended for: All skin types 
When to use: Morning and night 
Contains: ZELMA Mineral Rescue Complex (Zinc, sELenium, MAgnesium), Sacha Inchi Peptides, Vitamin C concentrate, Squalane, Hyaluronic Acid, Allantoin, Maqui.
Do you know what happens to your skin when zinc, selenium and magnesium combine? Your skin becomes radiant and smooth thanks to the ZELMA complex. This powerful combination of minerals, also known as micronutrients, are key for the cellular functions that combat the effects of stress and aging on the skin. The serum also contains potent antioxidants and peptides from Amazonian plants that help to restore luminosity to the skin. ZELMA evens out your skin tone and helps you achieve the radiant skin you've always wanted.
How to use
How to use
Add 1 or 2 pumps to the tip of your finger.

Apply it evenly to the face. It can also be used in the neck and décolletage area.

Massage gently in an upward circular motion with your fingertips, until absorbed.
Ingredients
Ingredients
Water, Tetrahexyldecyl Ascorbate, Glycerin, Squalane, Dicaprylyl Ether, Hydrolyzed Plukenetia Volubilis (Sacha Inchi) Seed Extract, Hydrogenated Lecithin, Behenyl Alcohol, Caprylic/Capric Triglyceride, Citrus Aurantium Dulcis (Orange) Peel Oil, Citrus Nobilis (Mandarin Orange) Peel Oil, Citrus Paradisi (Grapefruit) Peel Oil, Sodium Hyaluronate, Allantoin, Glycosphingolipids, Glycolipids, Polysorbate 20, Xanthan Gum, Aloe Barbadensis Leaf Extract, Panthenol, Tocopheryl Acetate, Sodium Phytate, Citric Acid, Magnesium Aspartate, Zinc Gluconate, Copper Gluconate, Aristotelia Chilensis (Maqui) Fruit Extract, Propanediol, Myrciaria Dubia (Camu Camu) Fruit Extract, Saccharomyces/Selenium Ferment, Leuconostoc/Radish Root Ferment Filtrate, Ilex Guayusa Leaf Extract, Butylene Glycol, Phenoxyethanol, Ethylhexylglycerin
Frequently Asked Questions
Question
How is the ZELMA Brightening Serum different from other brand serums?
Answer
Our Piel Eterna products were created through the combination of the most impactful natural ingredients, cutting-edge science, and dermatologist expertise. ZELMA Brightening Serum contains essential minerals to restore the skin's radiance and support it at the cellular level against the effects of stress, aging and pollution. The Santo Complex, also found in this serum, is an exclusive Piel Eterna formula with scientifically-proven ingredients from our heritage, providing exceptional results and improving the quality of the skin.
Question
What are its key ingredients?
Answer
The Brightening Serum contains our ZELMA mineral rescue complex consisting of Zinc, sELenium, and MAgnesium. These essential minerals, also known as micronutrients, act in combination with a high-level vitamin C concentrate and our exclusive Santo Complex to diminish the appearance of blemishes, brighten the skin, and provide deep skin hydration.
Question
Can I use the ZELMA Brightening Serum if I am young?
Answer
All Piel Eterna skin products are safe for use by adults 18 and older. Starting the ZELMA Brightening Serum from an early age provides greater support in the prevention of premature skin aging.
Question
Is ZELMA Brightening Serum safe for sensitive skin?
Answer
Always consult your dermatologist before starting any product, especially if you suffer from skin conditions like eczema. Piel Eterna products, including the ZELMA Brightening Serum, were created for all skin types. The formulas were carefully designed to care for even the most delicate skin, helping combat inflammation and signs of aging. Piel Eterna products are highly effective and have been developed to gently treat and revitalize the skin. Follow the instructions provided for use of this product, which include its gradual addition into your skin care routine, if you have sensitive skin.
Question
Can I use the ZELMA Brightening Serum in combination with other Piel Eterna skin products?
Answer
Yes, our ZELMA Brightening Serum is intended to be used as part of your skin care routine, along with the other Piel Eterna skin products. It should be applied after the use of the Purifying Cleanse and before the application of the Moisturizing Face Cream. You can complete your skincare routine with the addition of the Revitalizing Eye Cream, A.C.E. Retinol Intensive Rejuvenation Oil, and the Restorative Balm for Neck and Décolletage.
Santo Complex™
Ingredients:
Camu Camu
Procedente del Amazonas, tiene alto contenido de antioxidantes y péptidos que combaten el daño celular y apoyan la producción de colágeno. Mejora la apariencia de las líneas y la textura de la piel.
Sacha Inchi
Procedente del Amazonas, contiene alto contenido de antioxidantes y péptidos que combaten el daño celular y apoyan la producción de colágeno. Mejora la apariencia de las líneas y la textura de la piel.
Ceramidas
Restauran y fortalecen la barrera natural protectora de la piel. Apoyan su hidratación y luminosidad.
Aloe
Tiene efectos reparadores y cicatrizantes. Apoya la producción de colágeno, y tiene propiedades antiinflamatorias y antibacterianas.
Details of Use
Suero Iluminante ZELMA
Después de 1 semana
Comenzarán a disminuir la apariencia de enrojecimiento y las manchas oscuras de tu rostro.
Después de 4 semanas
Tu piel lucirá más radiante, suave y clara.
Tips de la Dra. Leyda
Antes de aplicarte el suero ZELMA, cerciórate de que tu piel esté limpia.
Para lograr aún mejores resultados, debes aplicar la Crema Facial Humectante luego del ZELMA, dos veces al día.
Durante el día, completa tu cuidado de la piel con un protector solar mineral.
How to Use
---
1. Coloca 1 o 2 dosis en la yema del dedo.
2. Aplícala de manera uniforme en las principales áreas de la cara. También se puede utilizar en la zona del cuello y el escote.
3. Aplica y esparce con un suave masaje en forma circular hacia arriba, hasta que se absorba por completo.